SENSUAL GAY MASSAGE
Electrifying touch for curious, bi, straight and gay men. Located in Street, Somerset UK
Meet Steve, your masseur
I'm Steve. I provide Sensual Gay Massage, based in Street, in Somerset UK. Street is close to the famous town of Glastonbury. Glastonbury is renowned for its mystical atmosphere and spiritual energy. It's a perfect location for sensual massage. I'm a skilled, independent, Tantric, and Body-to-Body Massage Practitioner.
I love to help you leave the tensions of the day behind in the safe and confidential environment of my home. I've been massaging men since 1993, with 30 years of experience. You'll never be expected to have touch where you don't want me to. It's a discreet and private service.
"I know how I always wanted a massage that was strong and powerful, but without being painful or too heavy. Often, the massage I had was too light, and it could be quite annoying. It just failed to give me the oomph I was really looking for." To that end, his aim is to give you the massage that succeeds in giving you that powerful "oomph".
Sensual massage – what's it like?
Sensual gay massage is a special, unique and exclusive massage. Your feelings are paramount and central to the massage provided for you. I'm often asked to describe the massage and hopefully this will give you an idea.
Your massage can begin with a really slow, gentle (and optional) undressing ritual. Very, very slowly removing your clothes. Button by button. Gentle touch. Using a series of vibrations. Smooth. Gliding. Exploring. Soft, listening touch. Feeling your body react.
Sometimes breath is used. Just beautiful, subtle, wisps of air. It feels amazing. Often a gentle, sweet compliment, whispered very softly, right up close to your ear. It makes your body sensitised. To give you fantastic, well-deserved goose-bumps.
Slowly, teasingly, sensually removing your clothes. Unwrapping you. Just like you are forbidden fruit. It's a slow, erotic dance. You don't have to stand still. Sway from side to side, back and forth. Enjoy the moment. Smell. Listen. Feel.
What do you begin to notice? After a long, warm hug (if you want that), I'll help you on the futon.
Deep breathing
Big, huge, deep breaths. The more air you take in, the greater your sensual awareness will become. All the cells in your body will be flooded with oxygen. You'll experience an incredible high. A state of delicious breathlessness. A natural, healthy, healing high.
A lovely, warm stream of body-temperature coconut oil. Gently trickled over your beautiful body. Every millimetre. Not one part of you is missed out. Slick. Silky perfection. Perfection, to suit your perfect body. Your Temple. The body you have worked so hard to get. The beautiful temple you always maintain. Well-groomed. Immaculate. Clean and fresh. Well nurtured. Strong. Agile. Muscular.
Then the magic goes up a notch (or three)
Here you get to spread your legs. As wide as you can manage. The wider the better. Slowly helping you to open up. Let all that pent-up tightness go!
Bend your knees, and spread your beautiful legs. Nice and wide. All with a bit of gentle encouragement. From these big, gentle, warm, manly, oily hands of mine.
Tightening your beautiful bubble butt
Sensual Gay Massage can be made even nicer. While you have your legs spread, squeeze your pert bubble-butt. This will greatly add to your pleasure.
Imagine. By really squeezing your butt nice and tight, you could almost turn these oily, big, manly massage-hands into foil! Especially while they glide between your cheeks. Because you can squeeze your butt soooo tight, you could almost flatten my hands completely. It REALLY feels good!
Squeezing and relaxing your butt improves your pelvic floor muscles.
Doing the squeezing and relaxing of your glutes during your massage, improves your muscle tone. It also improves your control of ejaculation, and enhances your virility. The more you do it, the better you get. The tighter, the better. Practice makes perfectness.
Spreading your legs during your Sensual Gay Massage gives much better access to your important bits. The touch gradually goes from your lower-legs, up to your quads, and just inside your thighs. Lots of oil. Lots of gentleness. Lots of teasing.
Remember to breathe
And remember – BREATHE. You just stopped, again. Didn't you? 🙂
Feather-light touch slowly finds areas where your body is the most sensitive. These may be held on to for a while. First one place. Then, another. Keeping you in the moment of bliss. So you can totally savour what you feel.
Through exploration, the places you LOVE to be touched are located and honoured. Given that special, dedicated attention. Every millimetre of your beautiful body is discovered, held, touched and pleasured with honour, and dedication. No part is missed out, unless that's what you desire.
Your whole body is a delicious landscape, where you discover the pleasure you can have through the joy of experienced, skilled, patient and nurturing touch.
From your head, neck, shoulders, back, butt, ankles, calves, arms, balls, penis, wherever your desire to be touched is, the touch will be there to honour that craving.
Once your magic places are found, and touched, you'll gasp with pleasure. Your joy of being discovered. Enriched. Set Free.
When should I turn over?
Depending on how long you're having your Sensual Gay Massage for, you'll be asked if you'd like to turn over. Asking you to turn over isn't a command. You may choose to stay face down if you want to. Turning over takes time. Your soul is on a special journey, it can be deeply entrenched in the sensations you feel.
It's often impossible to move straight away. You need the time for your soul to come back, to find the control-room for your muscles. Until you find it, you just can't move. Turning over isn't cast in stone. You may turn over, face up, face down, side laying, left or right, as many times as you'd like. There's no mandatory expectation for you to be bolt-rigid, in any one position, for any fixed amount of time.
It's your opportunity to have dedicated you time, where you get to just be. That sort of freedom has no attached rule, other than what you decide it should be.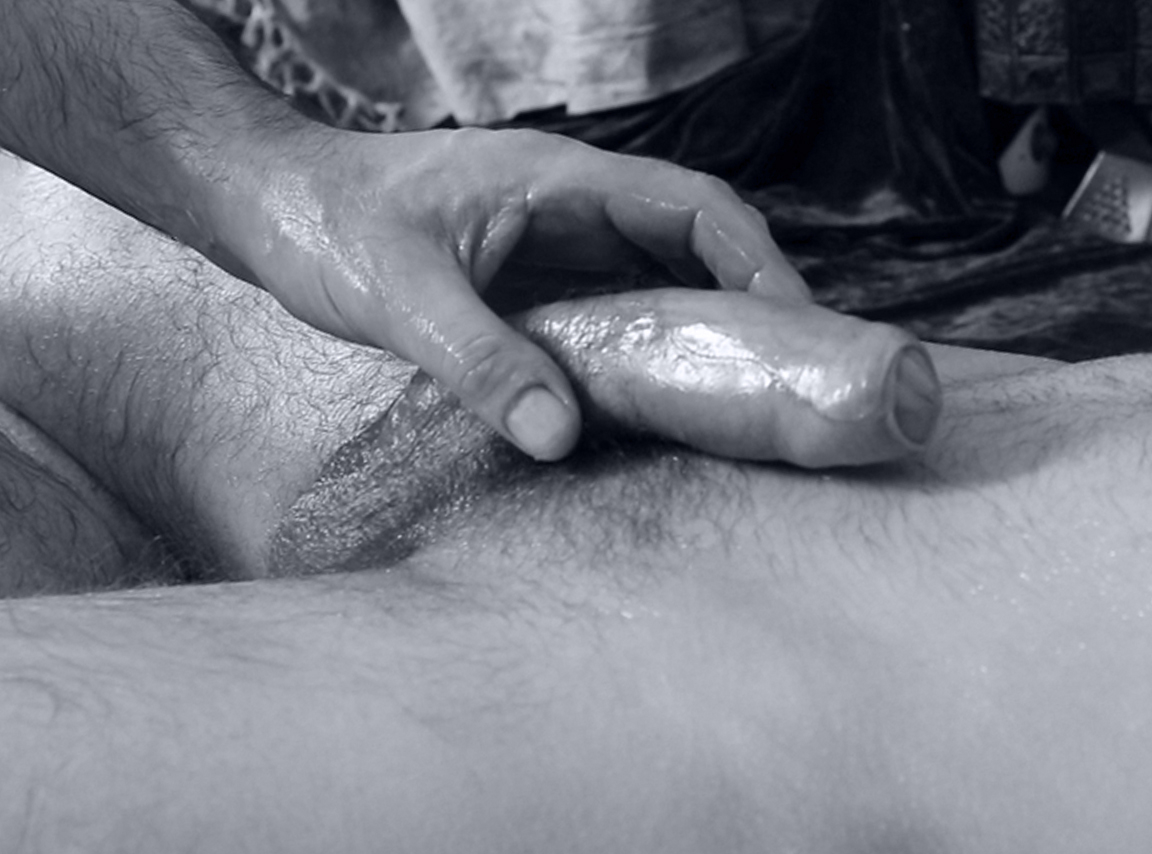 Sensual Phallus Massage
Slowly, tantalisingly, on to your firm, big, fat phallus. Some, maybe not so firm. But all, of which, rapidly become very frequently oiled, well-discovered, worshipped, phalluses.
Your phallus is returned to very often in your Sensual Gay Massage. Given lots of joyous blessings throughout your massage. If there's one thing that feels mighty fine, is your beautiful wiggly-bits, given lots and lots of undivided attention, and oily touch.
Touch that makes them throb. Touch that makes them ache. Touch that even makes you ache. In the right way, of course. A whole load of penis-massage techniques are used throughout your Sensual Gay Massage. Lots while you're laying face down. Even more when you're turned over, facing upwards. Your penis can be massaged in all sorts of different ways. In some delicious positions.
Getting ready for when you want release
Your Mr Happy (phallus). Merrily throbbing, hard, oily, getting all that much needed, greatly-deserved touch. Juicy, fat, big and feeling almost on the brink of explosion. Oozing loads of pre-cum.
But slowly, so slowly, the touch goes. Driving you toward a point when you think you'll lose control. Then, easing off. Not rushing you to a climax, unless you feel you want me to give you a climax.
Back and forth. Teasing you. Edging you. Ever closer. Every time. Your sensations rising. To a fever pitch. Each time I give your hot, wholesome phallus more, magic touch. Successively more firmly. Getting you ever nearer. To your chosen point of explosion.
Then, teasing your nipples, if you enjoy it. Mixing all your lovely enjoyment together. Round and round. Over and over. Back and forth.
When you feel you're ready, and want me to give you release.. BANG!! What a whopper of a climax you'll have. It'll be a long, slow, burn. You'll shudder and shake. You'll holler. Very loudly. You'll swear. Loudly (if you want to). The louder you yell, the more enjoyment you'll get from it. Whatever makes you feel good.
You don't have to be gay at all. You may be married, bi-sexual or curious. It really doesn't matter. It's how you identify with feeling at the time.
There's no right or wrong. Around 98% of my clients are straight, married or in a relationship.
I stand by my promise that I do my utmost to give you the most wonderful massage you ever tasted. I love doing it, and you'll love getting it.
Please take a look at the massage services I offer, then all you need to do is get in touch.
Interesting videos about masturbation. Hello, Guys, I thought I'd do a blog post about masturbation.  I'm asked about [...]